A beautiful witch has captured me, 
A beautiful, dangerous witch. 
She's drawn me in and easily trapped me, 
Keeps me here in her hidden niche. 
Her poisoned brew poured in my drink, 
I, thirsty, drank it dry. 
Before I knew it, I couldn't think, 
And soon, I didn't try.  
I'm tightly held here in her cove, 
I've no way out of this. 
Sick and addicted to her killing love. 
I'm dying for her kiss. 
I now confess, I've no desire, 
To escape this terrible cell. 
To have her near is to have her fire, 
So I gladly stay here in her spell.   
                                              Amelia On A
                                          Fairy Tale Adventure-
                                                                           By Kazuki Arai
                                                        Surprise Visitors 
 sigh... another rainy day....... My sis got up."(yawning) another sleepy day." "Oh you sleepyhead." said bro,"it's 9 o'clock and your still sleepy?""Yeah but on rainyday's i get so sleepy,REMEMBER." Oh!they they were arguing this whole week but alas they stopped but again they started arguing today! I HATE when they argue..........."You PIG!" "You DONKEY!"I was about to leave the living room but the doorbell rang (DING,DONG) my bro and sis stopped arguing when it rang.So we ran up to the door and opened it.......SUPRISE!!! It was grandma Fella.......My Mum came runnig to the door and joined us. She hugged grandma"Mum why so early and where is dad?" "Shhhhhh......hello kids ,how are you'll?" "Fine."We all said.Then suddenely grandpa Dodry appeared and were carrying a few bags."Hello uncle." we said as he walked in.Mum went to prepare some snacks so we sat down with them."So how is school?"asked grandpa."Good and we have holidays." we said."We brought you something dears." she opened one of the bags which uncle was carrying.She took out a box which was wrapped in blue.She handed it to bro.Then she opened another bag and she took out two more boxes.One was wrapped in orange and the other one was wrapped in pink colour.She handed the orange one to sis and the pink one for me."Open it up dears." she said.We opened our gifts and gently took off the wrapper........"Yayyy..........a book." we said.We had different kinds of books.My bro had a book about computers and my sis had a book about fashion.I got a book about a fairies."I can't wait to read this!" I said. "Me too!" bro said "Hey! me too!"we were all excited.
"Do you'll like it?" asked grandpa."Oh! YES!" we replied."Thank you grandma Fella and grandpa Dodry."we said as mum came along with a tray of snacks and some tea.We all chatted while eating our snacks and drinking our tea.After a while later it became night and they left.After they left we started to read our books.......Once upon a time there lived......................."Dears,come and eat dinner." We stopped our reading and went to eat our dinner."Mmmmmm.....it's tasty mum." i said after i had finished eaten my dinner."Thank you dear." "Your welcome mum." Then we started reading again..........."It's past your bedtime dears, go to sleep now."We went to sleep now.I was dreaming about the book. I wish i was a fairy.....
                                                         The Experiment          
When i woke up in the morning i wanted to try the magic fairy experiment in my fairy book.It said that it will open a magical world . I wasn't sure about it but.......I wanted so i read the ingredients.........2 tbs of drizziling rain...........some cat's fur...........3 flowers...........and any kind of liquid..........I couldn't understand some of them but i can understand a little.I took a tb spoon.........and after that i took a bowl to put any liquid.Now everything was ready for the experiment."I can't wait till the drizziling rain comes." When i just said that the rain started pouring.But not too light or not too heavily but just right.I knew it would drizzle as I took the tb spoon  and a small bucket to fill the two tb spoons I opened my backyard door.My mum wouldn't let me go from the front door because it will get dirty and it's only for the visitors so I have to go from the backyard door.
 The backyard door wasn't neat as the front door but I really didn't care much about it.I took my tb spoon and held it to the Drizziling rain. The rain filled one tb spoon so I poured it to the bucket.Now my tb spoon was ready to fill some more drizziling rain.I held the tb spoon again and the drizziling rain filled it so I put the rain water in to the bucket and went inside the house.Atlast now I got the two tb spoons of rain. one down and three to go.Now I need is some cat's fur. I sat on my bed and started thinking.
Ah ha I know my cousin Melina has a cat so I can tell mum that i want to visit her. I went towards the kitchen. Mum was cooking there."Mum, can I visit my cousin Melina." "Sure dear, but be careful ok." "Ok mum." I went towards my room and got dressed in  my White top and my black skirt.I put my white belt which had a small white bag to put the fur.Then I took my umbrella and set of to visit Melina.After a while later I was in her house. I rang the doorbell and then Melina opened the door. "Oh hello Amelia come in." she said. I stepped in and folded my umbrella. "So what brings you here." "Uh......well you see i want some of your cats fur." "My cats fur?" "For what?" she asked."Uh......for an experiment." "Oh!" "Uh.... ok you can pluck some of my cat's fur but do it gently." she said.She led me towards her room. The cat was sleeping in her bed.Her cat really did like me because when I first saw her cat it liked me and now her cat knows that I like her too. So I walked towards her cat and plucked some of it's fur gently. I put the fur in to my bag. "Thanks Melina." I said and then I went home. 
                                                           Magic! 
 Now I need three flowers and any liquid. I went outside again and plucked three of my favourite flowers. They were red roses and then I went inside. And now I need any kind of liquid.Ah ha I will put water. I went towards the kitchen and I filled the bowl with water. Now everything is done but  what do I have to do now? I took my fairy book and read the rest. It said............to mix them all up with a spoon ........and pour it in your garden......................................................I mixed them all up and then I poured them into the bucket. Then I went outside and poured it............*********"WOW."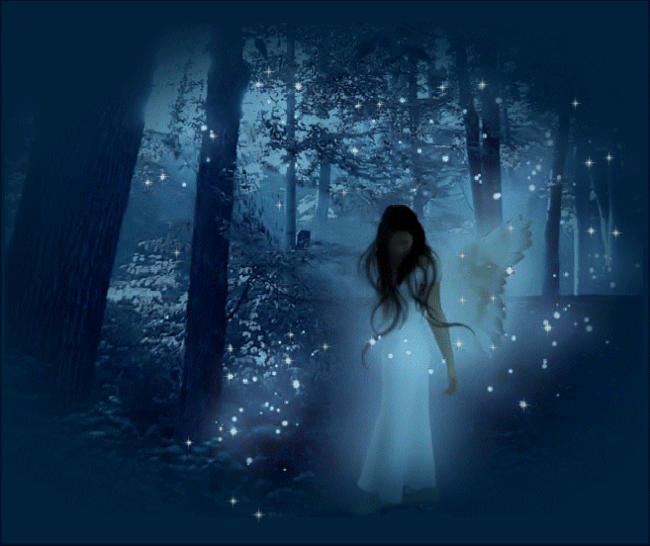 it was amazing. Sparkling glitters fell from the sky, a hole appeared  on the ground with a ladder which lend towards another whole world which was seperated from our's."Yes it worked!"  I wondered  if I should go or not? Maybe I should tell mum, no way she will certainly think that I am totally mad.I should keep this a secret and go into this magical world....So I went inside and climbed down the ladder. But then when I just stepped on the ground of the magical world...................I was wearing a white dress with white wings.................I couldn't understand..........................I "No worries child ." said a voice and it echoed."Hello, Can you tell where i am exactly?" "Yes." the voice said and....there appeared a beautiful fairy .Her hair was green and was decorated with flowers.She wore a green dress and had greenish wings.
"Uh...hello." I said "Hello dear, i'm one of the main fairies and my name is Floria, I congratulate you for opening the fairy world."She said."Wait a minute I have seen you somewhere." "Ah ha you are that main fairy in my fairy book." "Yes dear now you are really there aren't you hehehehe." "But how can you come out of it?" "This is magic dear," "There are real fairies in the world and you must understand it," "Your world thinks that we are not real and they don't believe in us." "Well I don't understand a thing." i said. "Oh! yes i knew you wouldn't understand, anyway  come with me i will explain whether there are fairies or not." "but..........." "Ok,ok, now no buts just come with me."She led me through beautiful flowers,trees and plants too.Also there was a huge pond. The butterflies flew across the pond. It was certainly like the garden which grandma Fella once owned when she was young.I always loved her garden , when she got married to grandpa Dodry,It was hard for her to keep so many things so she sold it.But eventhough she sold it the owner who bought it always invites grandma Fella and grandpa Dodry for tea so she takes me,bro and sis with them."Here we are then." "Wow this place is beautiful."I said "It always is." she replied.Then two small fairies came towards Floria and gave curtisies."It's urgent, the fairy queen wants to see you immediately." "Come on follow me Amelia we are going to see the queen of fairies." She flew in high speedly and I followed her. We went through so many natural things and finally she stopped. 
She stopped near a beautiful garden which was filled with flowers and trees.In the middle of the garden there was a beautiful palace. Between the two edges of the palace there were two hedges on each side.I liked the hedges beacuse it was nice and neatly hedged between the palace.
                                                      The Fairy Queen 
Floria went inside and I followed her again.Then we went through a golden coloured room and were near another door which was guarded by two guards.They bowed when we came there and they opened the golden door. 
"Welcome." said the most sweetest voice I've heard in my whole life and there apperead the most.......the...most beautifulest fairy I've seen in my whole life. At first I thought I was dreaming but she was actually real.She had the most beautifulest dress.(she was also looking like a bride too).Her wings looked like the most softest wings in the world and it was white coloured.I couldn't take my eye's off her. She looked as if she put somemagic beauty spell on her to look nice but it was her natural beautiness."Is something wrong your highness?" Floria asked. "Yes, and you came here too did you Amelia." she said. ".......I.....urgh.........I...." I could't find my voice and I was a bit shy to reply."Shy aren't you Amelia." she said. "But how......how can you......i mean......how did you.....read my mind...........and ..........how did you............know my ................my............n-n-name................."i said atlast finding my voice again."hehehehehehe." she laughed,"I can read minds dear and I know everything." "By the way my name is Tiara the queen of all fairies,"she said, "Now,now you two come with me I need talk to you both something." We followed her to a beautiful room which a golden table was set ready for a meeting or something."We are here," Tiara said,"Sit down you two." We sat down in the golden chairs and Tiara sat down in the main chair of the table.Now there was a great silence. "Now you'll know why you came here because it's urgen," she began,"There is good news and there is bad news what do you both choose?" "You both decide what to choose first and the last." Tiara said."I want Amelia to decide." said Floria."But..........I...........Uh..........I..........."I couldn't find my voice again. "Now, now go on Floria said you decide, Amelia and no buts." Tiara said. "I......urgh........fine i........choose........................the g-g-g-good n-n-n-news."I said nervously."Ok,the good news is ...........that there is a fairy (a very powerful one)who will save fairyland any time and the bad news is......................I...............Cannot tell anyone but....................but...............Amelia can you stay hear for a while, while I talk to Floria for a few minutes." ".......Uh.........o-o-of.........c-c-course........." Tiara went to a room followed by Floria......... 
                                                             What Secret? 
After a few minutes late they came from the room. Floria's face was kind of sad but Tiara's face was kind of happy. Impossible! hmmm................there must be something wrong, but what is it? is the secret halfway happy and also is it halfway sad? "uh..........so how's it going ,and why are your'll kind of ..........ummmm...........sad and happy..........."